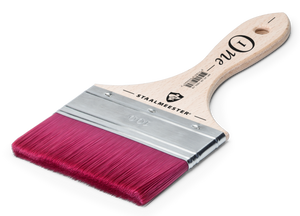 Stahlmeester
Staalmeester Flat Ultimate ONE Synthetic #10
Regular price
$64.99
$0.00
Unit price
per
Made from a strong synthetic fine fibre that allows for precise coverage of Fusion Mineral Paint.
Can be used for artwork, fine furniture, blending and dry brushing techniques etc.
You can achieve a chiselled straight edge covering a large area as it is 100mm ( almost 4") wide.
These ultra fine synthetic bristles are the softest thing you'll touch! Won't leave any brush strokes, so your project will turn out beautifully. Perfectly apt for undercoating, or for applying effect on finished work. Also used for difficult jobs in corners and on smaller sides. The brush distinguishes itself by its softness, its high absorptive capacity, and the smoothness of its painting result.
Made in Holland.
---